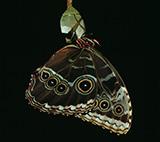 Want to help make a difference in the survival of tropical forests? For over twenty years, the Guanacaste Dry Forest Conservation Fund has been making a difference with our partners on the ground. More than 90% of our funding goes directly to local people and field work in Área de Conservación Guanacaste in northwestern Costa Rica, one of the most biologically-rich places in the world. We welcome and appreciate your support.
TWO EASY WAYS TO DONATE
By check

or, by postal mail:

GDFCF
c/o Eric Palola
4780 Main Road
Huntington, Vermont 05462
USA
More ways to give
Please be sure to discuss any of the donation options described below with your tax or financial advisor.
Gifts of Stock and Securities
For investors, donating stock is often the most tax-wise form of charitable giving. A gift of appreciated stock can save taxes in two ways -- you can claim a tax deduction for the full value of the donated stock, and you avoid having to pay tax on the capital gain you would have reported had you sold the stock.
Each stock gift you give to GDFCF strengthens our programmatic work while providing tax benefits to you. We are happy to provide stock transfer instructions. Please see our contact information below.
Donor-Advised Funds
Another potentially tax-advantaged technique for charitable giving is the use of a Donor-Advised Fund (DAF). A DAF can be established with most brokerage firms, as well as with some community foundations and charities. Once your DAF account is established, you transfer funds to the account and these funds are then invested and held for future donation to charities in accordance with your instructions. With a DAF, you receive your charitable donation tax deduction up front when you transfer money to the DAF account. So, the DAF can be a vehicle to "pre-fund" future years of charitable donations. For example, you can fund a DAF with an amount equal to your planned charitable donations for the next 5 years and claim an income tax deduction for the full amount in the year of funding. This "bunching" of charitable deductions into a single year can produce significant tax savings for individuals who generally claim the standard deduction on their personal tax return. By accelerating future deductions into the current year, you can inflate your total deductions to an amount in excess of the standard deduction for that year, thereby generating tax savings you would have lost if you were limited to the standard deduction every year.
Having funded the DAF, you would then make donations to charities from the DAF over the next 5 years (or any other period you choose). You would claim no tax deduction for the donations to charity as they are made from the DAF, because you would have already deducted the donation amount up front. But in the meantime, you would enjoy a further tax benefit: the funds invested in the DAF grow tax-free while they are held, because the DAF is exempt from income tax.
If your DAF is held with Fidelity Charitable, Schwab Charitable, or BNY Mellon Charitable Gift Fund, you can donate to GDFCF quickly and easily via DAF Direct, here.
IRA Qualified Charitable Distribution
If you are 70½ years old or older and are withdrawing funds each year from your IRA, you can take advantage of a simple way to support GDFCF. Many retired taxpayers who are receiving annual distributions from their IRAs gain no tax benefit from charitable donations because they are claiming the standard deduction on their personal income tax returns. In this situation, a so-called "Qualified Charitable Distribution" (QCD) from the IRA can be used to regain the lost tax deduction.
With a QCD, the IRA pays an amount -- that it would otherwise distribute to you -- to a charity of your choice, instead. The amount paid to charity is not included in your taxable income, but still counts toward your required annual minimum IRA distribution. So, you get the same tax benefit from your donation that you would have received if you were not claiming the standard deduction: The income exclusion for the IRA distribution to charity replaces the unclaimed charitable deduction. You can give up to $100,000 from your IRA each year using this technique.
Your donations will support these core activities:
Bioinventory of ACG
: Thirty-eight trained resident Costa Ricans work steadily across twelve research stations collecting species (roughly 1,000 per year) — many of which are still unknown and undescribed. They are essential to the effort to build a complete biological library of what lives in Área de Conservación Guanacaste on both the land and the sea.
Education for Biodevelopment
: Outdoor science for 52 elementary schools on the perimeter that use ACG as a living classroom through education programs provided by ACG and supported by GDFCF. These programs teach schoolchildren and teenagers to know the globally significant biological richness in their backyards and become constituents for its protection.
Marine Conservation:
Through collaboration with the University of Costa Rica's CIMAR marine institute we support efforts to preserve ACG's 43,000-hectare marine protected area and its over 150 km of wild coastline containing mangrove forests and criticial turtle nesting beaches.
Land Acquisition:
Strategically valuable parcels of rainforest that enhance biological corridors and the movement of species— especially in adapting to a climate change stressed world— are being added to the core protected area of ACG as opportunities arise. GDFCF staff have extensive experience in negotiating land purchases at the lowest reasonable cost.
ACG Assistance:
We provide timely help for specific ACG operational needs such as buildings, roads, vehicles, communications facilities, or boat repairs.
[See: CURRENT WISH LIST]
Need more information?
If you'd like more detail on these areas of work please visit What We Do. You can also find tax and financial information about GDFCF here. And if you would like to discuss other ways you can help, or have any questions, please feel free to contact Eric Palola, Executive Director, at palola@gdfcf.org or 802-343-2929, or Monique Gilbert, Development Advisor, at monique@gdfcf.org or 802-999-9365.