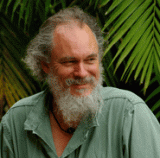 As the resident Director and instructor for the University of California's Education Abroad Program (EAP) in Costa Rica, Frank Joyce ensures that students learn as much as they can about Costa Rica's natural history and biology while ensuring their health and happiness during two six-week sessions. His goal is that the expectations of every student are exceeded by their actual experience. Frank especially enjoys facilitating and observing the tremendous intellectual and personal growth that students make while participating in EAP.
Frank spends a great deal of time with students in this program. During the first 2 weeks of the program, he camps in national parks and other wild areas with his students. As a consequence, they share many experiences in wild places at all hours of the day. In Monteverde, students live and study at the Estación Biologíca. They also spend 6 days in the heart of the Monteverde protected area, the Peñas Blancas Valley. They are immersed in, and surrounded by tropical nature and rely on each other in this remote area.
Frank plays a key role in the development and implementation of several GDFCF projects, especially with regard to Sector Marino of ACG and in the development and encouragement of bird conservation for both resident and migratory species. When not conducting EAP courses, Frank can frequently be found birding with colleagues deep in ACG forests, or tending to his mariculture project in Cuajiniquil Bay.