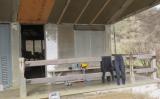 Thanks for having a look at our current "wish list". This is where you can make a specific donation to help maintain or upgrade facilities and support GDFCF's overall conservation mission to protect the biodiversity of Area de Conservacion Guanacaste. This list contains discrete items that support the four major programs described on the Ways to Help page.
January 2017
Our current wish list of vehicles, tools, equipment, and maintenance includes:
New boat and motor. Cost: $35,000 ACG has only one aging boat to patrol a 43,000 hectare (>100,000 acre) marine sanctuary, one of the largest and best areas of its kind in all of Central America, but which is under steady threat from illegal fishing and recreational usage. This boat will also support current biological research efforts in Sector Marino.
Island marine research station upgrade through restoration of current Estacion Isla San Jose. Cost $50,000. This station was built roughly twenty-five years ago, but is suffering significant structural damage due to salt wind and rain and lack of reliable fresh water supply. (See photo). This station is critical for daily enforcement of the no-take marine protected area and as a 'base camp' for biologists working in the remote island archipelago of ACG's Sector Marino.
Replacement of 4-wheel drive vehicle. Cost: $40,000 Traveling to and from ACG's 12 remote terrestrial stations is typically on very rough roads where a heavy-duty 4WD vehicle is necessary for delivering supplies. We currently own two with high mileage, and rent several more for the parataxonomists.
10 Laptops, software, and backup drives for local partaxonomists. Cost $20,000 ($2,000 each)
Due to the humidity and rough working conditions, we have to regularly replace laptops for the parataxonomists working in the field. These laptops are obviously critical for data entry, photographs of species, and for systematizing data from the field research.
Support a Parataxonomist in the Field Cost $16,000 per year. This will keep one of our 34 parataxonomists working year round in ACG, collecting specimens and being part of the larger team that is cataloguing the rich biodiversity of ACG and safeguarding it for the future.
Laboratory supplies Cost $5,000. Support the central BioLep laboratory in Sector Santa Rosa of ACG that serves as the hub for curation and a clearing house for species gathered across ACG. Many types of supplies are used in this climate-controlled facility that is a depository for hundreds of carefully dried and mounted species.
We are happy to discuss ways of recognizing your donation on-site as well as through our regular communications efforts !!