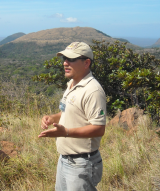 Alejandro Masís is Director of Área de Conservación Guanacaste since 2007 after being subdirector and Wildlands Manager since 2005. Alejandro began working in ACG in 1995 coordinating inventory research projects and the parataxomists program at INBio (Instituto Nacional de Biodiversidad) and ACG.
He is a biologist from Kansas State University with a masters degree in Ecology and Evolution from the University of Missouri at Saint Louis. Under the supervision of Dr. Bob Marquis while at UMSL, he worked on dung beetle communities at the Missouri Ozark Forest Ecosystem Project, a 100-year-long project looking at the impact of forestry on biodiversity.
Alejandro is also a member of the National Council of Conservation Areas, which is the government entity in charge of directing conservation policies for the Costa Rican National System of Conservation Areas (SINAC). Alejandro provides volunteer ad honorem advice and orientation to projects related and in benefit to ACG in accordance with the agreement between SINAC and GDFCF.