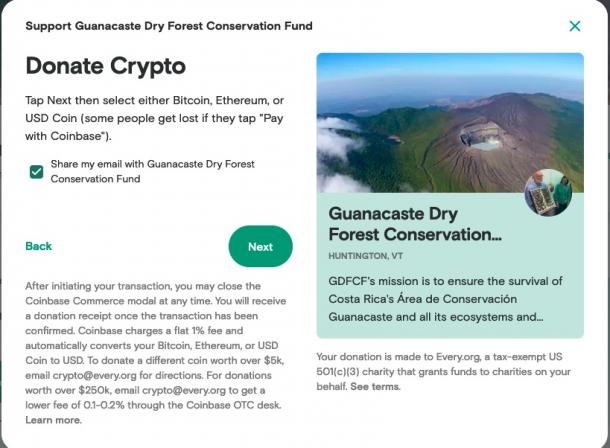 The Guanacaste Dry Forest Conservation Fund now accepts cryptocurrency! Cryptocurrency has reached and sustained a market cap of over $2 trillion in 2021. While the asset class remains volatile, it is the fastest growing asset of the decade. With the addition of the first Bitcoin ETF and integration of crypto into everyday payments platforms such as PayPal and Venmo, cryptocurrency is becoming more and more integrated into people's lives.
Similar to donating equities or other appreciating assets, there can be significant tax advantages to donating cryptocurrency directly. Since the IRS classifies donated cryptocurrency as property, donating it is not a taxable event. This means donors do not have to recognize capital gains on donations of appreciated crypto. If they held it for over a year, they may even be able to deduct the fair market value on their taxes.
GDFCF decided to accept cryptocurrency in order to offer our supporters yet another way to donate to our work. Click here to donate cryptocurrency.
The crypto donations are supported through Every.org, which takes cryptocurrency and converts it into fiat currency, this comes at no additional cost to the donor. Donors can donate Bitcoin, Ethereum, USDCoin directly on Every.org. Please contact crypto@every.org if donating with a different coin and the donation is valued at $5,000 or more. Donors will also receive a tax-deductible receipt from Every.org once the transaction is detected on the blockchain.